JUST 10 MINUTES AWAY
FROM BARCELONA
EDIFICIO ESADECREÁPOLIS
Av. Torre Blanca, 57.
Sant Cugat del Vallés
08172 (Barcelona)

Tel+. +34 93 557 23 84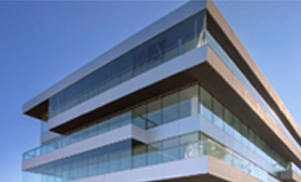 Easy access thanks to the dense transport infrastructure network in the area.
ROAD TRANSPORT
AP7 Sud
(Barcelona – LLeida – Tarragona – Zaragoza – Madrid).
AP7 Norte (Girona-France).
A2 (Girona-France).
E9 – Tunnels of Vallvidrera,
direct connection to Barcelona in 10 minutes.
PUBLIC TRANSPORTATION
FGC [Regional Railways]
Ferrocarrils Generalitat de  Catalunya.
(Sant Cugat Station-20 mins. to Plaça –
Catalunya).
Renfe [National Railways]
(Sant Cugat Station).
Sant Cugat Bus Network.
ESADE CREÁPOLIS
Av. Torre Blanca, 57
Sant Cugat del Vallés
08172 (Barcelona)